Excellence in recycled polythene
Chase Plastics is the UK's leading supplier of high quality recycled polythene pellets and compounds.
Chase Plastics is committed to the highest standards of quality and service in the supply of recycled polythene pellets and compounds. Our experience in both recycling and film manufacture provides a thorough understanding of our customers' requirements. Our company is EuCertPlast accredited recognising that we operate to the highest standards of material traceability, quality and process control.
We are a strategic supply partner to leading flexible and rigid packaging manufacturers, construction film and rigid products producers and major refuse sack manufacturers. We aim to provide standards of service and consistency comparable with the major producers of virgin polymers.
We are one of the country's longest established manufacturers of recycled plastics and are committed to recycling plastics in the United Kingdom.  Operating from an Environment Agency approved factory in Brandon, Suffolk, we serve customers across the UK and Mainland Europe.
Achieve your sustainability ambitions without compromising performance.
Thanks to our decades of experience and continual investment in state of the art machinery, we are able to supply recycled polythene of the highest quality. We work closely with our customers to deliver sustainable raw materials which avoid compromising on product quality, plant efficiency or productivity whilst meeting your commercial and sustainability objectives.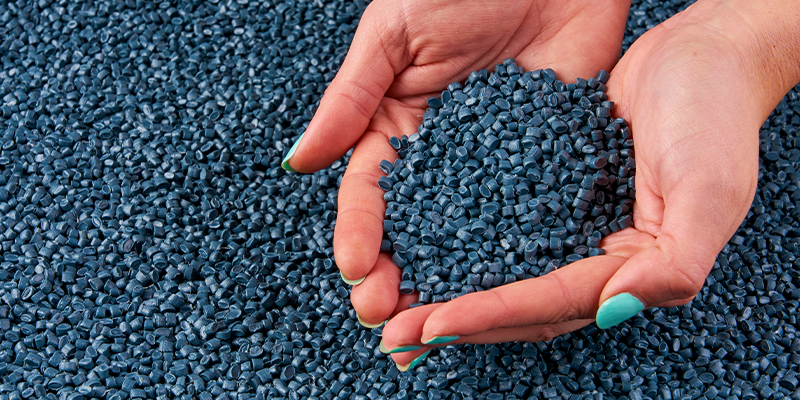 The power of consistency

Key to running a highly efficient extrusion or moulding operation is a reliable supply of highly consistent feedstock. Chase Plastics are ideally suited to overcome the inherent inconsistency in recycled materials. RECOTHENE™ recycled polythene is batch blended between the recycling and final pelletisation processes, ensuring each batch consists of homogenous pellets of the highest quality.
Providing Solutions to the Plastic Tax

The United Kingdom Government has introduced a tax on plastic packaging with less than 30% post consumer recycled content. The UK Plastics Pact also sets an objective for packaging to contain at least 30% post consumer content.  Chase Plastics is ideally placed to enable its customers to meet these objectives. Our Customers are achieving superb results by introducing RECOTHENE™ recycled polythene into high performance packaging applications, at addition rates in excess of 30%.  Customers also benefit from the added assurance that all of our products are EuCertPlast accredited, ensuring the highest standards of material traceability.

Buying Waste Plastic

Chase Plastics buys all types of clean polythene packaging waste and production waste.  We specialise in providing advice to companies on how to prepare their plastics for recycling in order to maximise value and to ensure that their plastic is fully recycled in the United Kingdom, rather than being dumped overseas.  Chase Plastics have never been involved in the export of plastic waste, we recycle 100% of the material we buy into a valuable raw material. Thanks to our EuCertPlast accreditation our supply partners have total assurance that their waste is being recycled in the United Kingdom